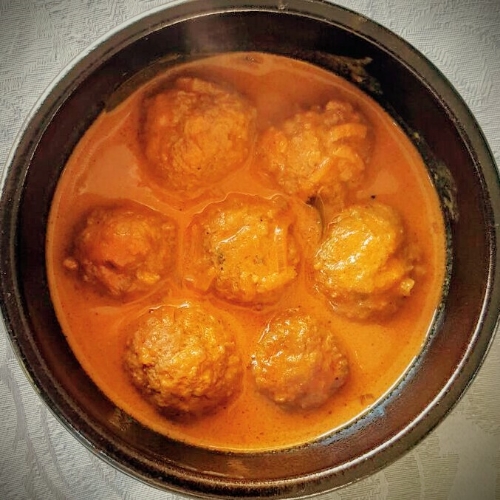 Beef + Lamb Meatball Curry
I love making party meatballs, and love a good curry, so decided to combine both ideas to make a delicious meatball curry! As my kids love this curry base (even my 1 year old!) I don't have any chilli powder in this recipe, and always add fresh chilli separately when the hubby and I take our helping.
Serves 4
Preparation Time: 15 minutes / Cooking Time: 20 minutes
Ingredients
For the meatballs:
250g beef mince
250g lamb mince
¼ cup fried onion
¼ cup dried or fresh breadcrumbs
2 tsp ginger and garlic paste
1 egg
1 tsp salt
1 tbl fresh mint, finely chopped
¼ cup grated Parmesan cheese
For the curry:
2 tbl ghee/coconut oil, for frying
1 brown onion, finely chopped OR ¼ cup fried onion
1 heaped tbl tomato paste
½ tsp cumin powder
1 tsp coriander powder
1 heaped tsp paprika powder
½ tsp garam masala powder
1 tsp garlic and ginger paste
1 small spring of curry leaves (approx. 20 leaves)
500ml chicken stock
1 x 270ml can coconut cream
½ - 1 tsp salt (depending on level of salt in chicken stock)
Fresh green chilli, finely chopped (optional)
Method
Put all ingredients for the meatballs into a large bowl.
Mix well with hands for 2-3 minutes until everything is well combined, and texture of mince is smooth.
Take tablespoons of the mince mixture and roll into approximately 25 balls. Note – meatballs should be approximately one inch in diameter / the size of a ping pong ball. Place balls separately on a large plate and leave in the fridge until ready to go into the curry.
In a medium-large pot, melt the ghee/coconut oil on medium heat, add the onion and fry for 5-10 minutes until brown and caramelized. Note – If using fried onions, simply heat with half the ghee until hot.
Add the tomato paste, and stir for 1 minute.
Add cumin, coriander, garam masala and paprika powders, garlic and ginger paste, and curry leaves and stir for 2 minutes on medium heat until fragrant.
Add chicken stock and mix well with paste. Bring to the boil.
Carefully add meatballs to the curried stock and simmer on medium heat for 5 minutes without stirring meatballs.
Then, gently stir meatballs, and simmer for further 5 minutes. Note – ensure all surfaces of meatball have been submerged and heated in the curry liquid.
Add the coconut milk and salt to taste, stir, and simmer on low for 5 minutes.
Shut heat, cover pot with lid and leave for 10 minutes.
Add fresh chilli and stir into curry before serving (optional).
Serve with rice or chapatti.
Enjoy! GPW