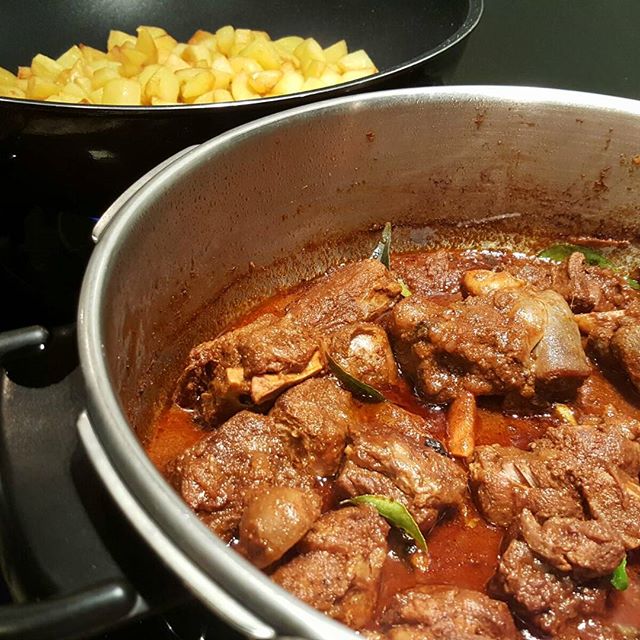 Not Quite Goat Vindaloo
I have been trying to develop a good vindaloo recipe, and after a few attempts, I have created this dish. According to my Good Irani Mum, this is 'not quite' vindaloo – but whatever it is, it's absolutely delicious, hence the name! You can make this with beef or pork, but I've found goat works best. You can make this without a pressure cooker, but you will need more stock, and will have to cook the goat on the stove, simmering for about an hour or until goat is tender, and gravy has thickened.
Serves 4
Preparation Time: 5 minutes + overnight marination / Cooking Time: 35 minutes
Ingredients
1 kg goat meat, cleaned, cubed and washed
1 tbl Kashmiri chilli powder
1 tsp cumin powder
1 tbl garlic and ginger paste
3 tbl balsamic vinegar (you can substitute for white or apple, but balsamic gives this dish its distinct flavour)
1 tbl olive oil
1 tsp salt
2 medium onions, finely chopped
2 tbl ghee, for frying onions
15 peppercorns
5 cardamom pods
5 cloves
Few shards of whole cinnamon
1 star anise
1 cup chicken stock
15 curry leaves
½ tsp sugar (optional)
3 large potatoes, peeled and chopped into 2cm cubes
¼ cup ghee, for frying potatoes
Method
Mix the chilli powder, cumin powder, garlic and ginger paste, balsamic vinegar, olive oil and salt to form a paste.
Rub half of this paste over the goat and leave to marinate in the fridge overnight. Leave the other half of the paste in a small bowl, in the fridge as well.
In a medium sized pressure cooker, fry the onions in the 2 tbl of oil until dark brown and caramelised, on medium heat. NOTE – be sure to add a little bit of water while frying if necessary, to stop the onions from burning.
Add the remaining half of the paste and fry for a minute until fragrant.
Add the goat and whole spices, and fry for 5 minutes until the goat is nicely browned.
Add 1 cup of stock, stir and close the pressure cooker. Increase heat slightly to bring cooker up to pressure. When the whistle sounds, lower the heat so there is a low, steady stream of steam, and cook for 25 minutes. Shut pressure cooker once cooked and leave to cool.
Meanwhile, cook the potatoes in a wok with ghee on medium heat for 15 minutes or so, or until cooked. Season with salt to your liking.
Once cooled, open the pressure cooker lid and gently heat to a simmer. Add the curry leaves and sugar, stir to combine and shut heat.
Serve vindaloo with potatoes, and chapatti or rice.
Enjoy! GPW